Here she is! Miss classy side table is looking like a whole new fair lady who went from the streets to now speaking in a high society English accent and attending galas with nobles and royalty.
I found her at a Goodwill and couldn't pass her by. She had a look about her that just said "make me pretty again".
Her plea for help was quite understandable. She had scuffs, smudges, discoloring, and grime. My first task was simply having to clean her up, which required some elbow grease.
So much stuff that I probably don't want to know what I cleaned off…
The drawer was also roughed up with tape residue and discoloring.
Besides needing a good cleaning, there were some knicks here and there, so I got my trusty Elmer's wood filler and went to work.
The aim is to fill in the areas, let it set and dry, then come back and sand away the excess until the surface is nice and smooth.
After letting the wood filler dry for a few hours, I sanded and then commenced with finally getting down to business and got two coats of General Finishes milk paint in Linen on it.
Looks like a whole new beast already! Ah, the wonders of a fresh coat of paint never ceases to amaze.
Now for the fun part! I wanted to add more bling than simply rub n' buffing the drawer handle gold. I thought about playing it safe and just painting certain details of it in gold, but this piece with all its curves and embellishments demanded I take a risk with an idea I'd had since finding it. Being me, I gave it a good 10 seconds of debate before following my gut feeling to run with the wind and go big!
Share it on Pinterest:
Gold dipping is just how it sounds; the piece should look like you dipped it into a tub of lovely molten gold. Then voila, a statement piece that will catch the eye and make you slightly giddy.
Using good ol' Frog Tape, I measured around the table and placed the tape where I wanted the gold paint to stop and used trash bags to secure the rest of the table from getting any gold on it.
I did two coats of spray, waiting for the first coat to fully dry overnight before doing the touch-ups with the second coat.
I let the second coat sit overnight, and the next day I slowly peeled away the tape and it revealed the finished product. Look at how perfect those lines are! They make me smile.
I'm VERY happy with how well this table turned out. Now that it's officially become winter temperatures outside, I'm glad I got to do this before it would have been impossible until Spring!
One more delightful surprise to unveil! Look at what happens when you open the drawer:
I lined her drawer sides and inside (woot for mod podge!) with a beautiful black and white damask scrapbooking paper, which I think really adds an extra special detail and elegance every time you open the drawer.
I'm taking a big step for myself and for the first time am offering a painted piece for sale, so this lil lady will be adding a classy charm to a lucky someone's home.
If you'd like to check out the side gold-dipped side table I painted to match this one, hop over here.
Let me know what you think in the comments (any questions too!). Thanks y'all!
---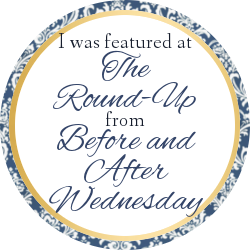 Shared On:
foundforagedlinkyparty, thatdiyparty,diysundayshowcase, niftythriftysunday, motivationmonday, amazememonday, makeitmonday, inspirememonday, yourdesignsthistime,threemangoseeds, makeitprettymonday, treasureboxtuesday, tweakittuesday, themakerslinkparty, dotelltuesday, skipthehouseworklinkparty, outsidethebox, hitmewithyourbestshot, fromdreamtoreality, thatdiyparty, awesomethingstuesday, wowuswednesdays, whimsywednesday, inspiremewednesday, beforeandafterwednesday, wildlyoriginallinkparty, thriftythursday, powerofpaint, lizmarieblog, furniturefeaturefriday, lookwhatimade, cityofcreativedreams, handmadehangout, inspirationgallerylinkparty